J.D. Carpenter is the author of four books of poetry: Nightfall, Ferryland Head (Missing Link Press, 1976); Swimming at Twelve Mile (Penumbra Press, 1979); Lakeview (Black Moss Press, 1990); Compassionate Travel (Black Moss Press, 1994); and five novels: The Devil in Me (McClelland & Stewart, 2001); Bright's Kill (Dundurn Press, 2005); 74 Miles Away (Dundurn Press, 2007); Twelve Trees (Dundurn Press, 2008); The County Murders (Cressy Lakeside, 2016). His interests include music, art, baseball, hockey, horse racing, and his six granddaughters. He and his wife, Karen Ralley, live in Prince Edward County.
1 - What are you reading?

I have subscribed to

The New Yorker

 for 40 years and I usually have two or three months of back issues piled on my bookshelf, waiting to be read. The magazine comes out weekly, so that's a lot of issues. Because of "sheltering in place", however, I have managed to catch up ... well, almost. I have been particularly interested in the coronavirus-related articles of Jill Lepore, a staff writer who is also a professor of history at Harvard. In the March 30 issue she wrote a survey of "t

he literature of contagion,

" touching upon writings by Sophocles, Daniel Defoe, Mary Shelley, Edgar Allen Poe, Jack London, Albert Camus, and Stephen King, among others. Her article in the April 6 issue concerned loneliness -- in general, and as it is affected by Covid-19. "Zoom is better than nothing," she wrote. "But for how long?" The March 30 issue also contained Peter Hessler's excellent "

Life on Lockdown: A family's experience of China's nationwide quarantine".
---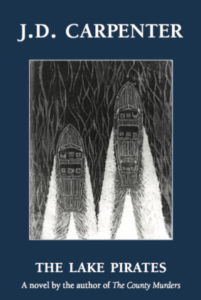 2 - What are you writing?
For the past several months I have been putting the final touches on my new murder mystery,
The Lake Pirates
, which will be published by Cressy Lakeside Books later this month. It is a sequel to
The County Murders
(2016). Both novels are set in Prince Edward County and feature the same protagonist, Joe Horn, a reporter for the local newspaper. In the new book, Joe investigates the circumstances surrounding the mysterious death of a lady artist on a remote island off the County's southeastern coast.
3 - What are you recommending?