At the Prince Edward County Public Library we have noticed a continued interest in books by Indigenous authors, as library patrons want to stay informed and educated. We're sharing some of the popular titles here as a starting point. More titles are available and library staff at all branches of the library are happy to assist you to find them. Drop by your local branch or call 613-476-5962 to place your requests.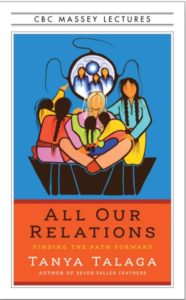 All Our Relations by Tanya Talaga
Find as an ebook or print book
In this vital and incisive work, bestselling and award-winning author Tanya Talaga explores the alarming rise of youth suicide in Indigenous communities in Canada and beyond. From Northern Ontario to Nunavut, Norway, Brazil, Australia, and the United States, the Indigenous experience in colonized nations is startlingly similar and deeply disturbing. It is an experience marked by the violent separation of Peoples from the land, the separation of families, and the separation of individuals from traditional ways of life — all of which has culminated in a spiritual separation that has had an enduring impact on generations of Indigenous children. As a result of this colonial legacy, too many communities today lack access to the basic determinants of health — income, employment, education, a safe environment, health services — leading to a mental health and youth suicide crisis on a global scale. But, Talaga reminds us, First Peoples also share a history of resistance, resilience, and civil rights activism.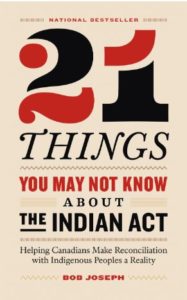 21 Things You May Not Know About The Indian Act: Helping Canadians Make Reconciliation with Indigenous People a Reality by Bob Joseph
Find as an ebook or print book
Based on a viral article, 21 Things You May Not Know About the Indian Act is the essential guide to understanding the legal document and its repercussions on generations of Indigenous Peoples.|The Indian Act, after over 140 years, continues to shape, control, and constrain the lives and opportunities of Indigenous Peoples, and is at the root of many stereotypes that persist. Bob Joseph's book comes at a key time in the reconciliation process, when awareness from both Indigenous and non-Indigenous communities is at a crescendo. Joseph explains how Indigenous Peoples can step out from under the Indian Act and return to self-government, self-determination, and self-reliance—and why doing so would result in a better country for every Canadian. He dissects the complex issues around truth and reconciliation, and clearly demonstrates why learning about the Indian Act's cruel, enduring legacy is essential for the country to move toward true reconciliation.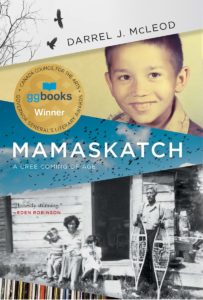 Mamaskatch: A Cree Coming of Age by Darrel J. McLeod 
Find as an ebook or print book
Growing up in the tiny village of Smith, Alberta, Darrel J. McLeod was surrounded by his Cree family's history. In shifting and unpredictable stories, his mother, Bertha, shared narratives of their culture, their family and the cruelty that she and her sisters endured in residential school. McLeod was comforted by her presence and that of his many siblings and cousins, the smells of moose stew and wild peppermint tea, and his deep love of the landscape. Bertha taught him to be fiercely proud of his heritage and to listen to the birds that would return to watch over and guide him at key junctures of his life.
Beautifully written, honest and thought-provoking, Mamaskatch—named for the Cree word used as a response to dreams shared—is ultimately an uplifting account of overcoming personal and societal obstacles. In spite of the traumas of Darrel's childhood, deep and mysterious forces handed down by his mother helped him survive and thrive: her love and strength stayed with him to build the foundation of what would come to be a very fulfilling and adventurous life.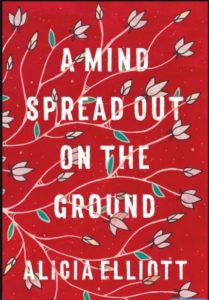 A Mind Spread Out On the Ground
by Alicia Elliott
Find as an ebook, audiobook and print book
In an urgent work that asks essential questions about the treatment of Native people in North America while drawing on intimate details of her own life and experience with intergenerational trauma, Alicia Elliott offers indispensable insight into the ongoing legacy of colonialism. She engages with such wide-ranging topics as race, parenthood, love, mental illness, poverty, sexual assault, gentrifcation, writing and representation, and in the process makes connections both large and small between the past and present, the personal and political—from overcoming a years-long battle with head lice to the way Native writers are treated within the Canadian literary industry; her unplanned teenage pregnancy to the history of dark matter and how it relates to racism in the court system; her childhood diet of Kraft Dinner to how systemic oppression is directly linked to health problems in Native communities.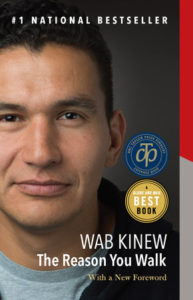 The Reason You Walk by Wab Kinew
Find as an ebook, or print book.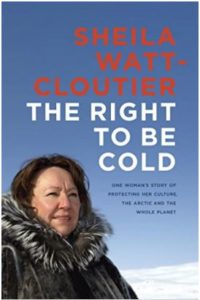 The Right to Be Cold by
Sheila Watt-Cloutier

Find as en ebook or print book
Sheila Watt-Cloutier is one of the world's most recognized environmental and human rights activists. Experienced in working with global decision makers for over a decade, Watt-Cloutier offers a new model for twenty-first-century leadership. She treats the issues of our day—the environment, the economy, foreign policy, global health, and sustainability—not as separate concerns, but as a deeply interconnected whole. In 2007, Watt-Cloutier was nominated for the Nobel Peace Prize for her advocacy work in showing the impact global climate change has on human rights, especially in the Arctic, where it is felt more immediately and more dramatically than anywhere else in the world.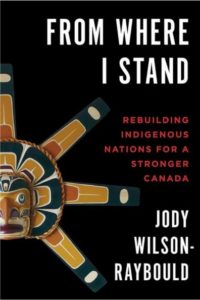 From Where I Stand: Rebuilding Indigenous Nations for a Stronger Canada by Jody Wilson-Raybould
Available as a print book and a set for book clubs.
An Indigenous leader who has dedicated her life to Indigenous Rights, Jody Wilson-Raybould has represented both First Nations and the Crown at the highest levels. And she is not afraid to give Canadians what they need most - straight talk on what has to be done to move beyond our colonial legacy and achieve true reconciliation in Canada. In this powerful book, drawn from speeches and other writings, she urges all Canadians - both Indigenous and non-Indigenous - to build upon the momentum already gained or risk hard-won progress being lost. The good news is that Indigenous Nations already have the solutions. But now is the time to act and build a shared postcolonial future based on the foundations of trust, cooperation, recognition, and good governance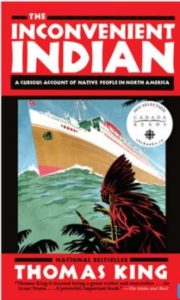 The Inconvenient Indian by Thomas King
Available as a print book, ebook and audiobook.
The Inconvenient Indian is at once a "history" and the complete subversion of a history—in short, a critical and personal meditation that the remarkable Thomas King has conducted over the past 50 years about what it means to be "Indian" in North America. Rich with dark and light, pain and magic, this book distills the insights gleaned from that meditation, weaving the curiously circular tale of the relationship between non-Natives and Natives in the centuries since the two first encountered each other. In the process, King refashions old stories about historical events and figures, takes a sideways look at film and pop culture, relates his own complex experiences with activism, and articulates a deep and revolutionary understanding of the cumulative effects of ever-shifting laws and treaties on Native peoples and lands. This is a book both timeless and timely, burnished with anger but tempered by wit, and ultimately a hard-won offering of hope — a sometimes inconvenient, but nonetheless indispensable account for all of us, Indian and non-Indian alike, seeking to understand how we might tell a new story for the future.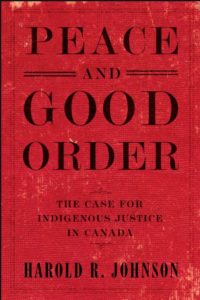 Peace and Good Order: The Case for Indigenous Justice in Canada by Harold R. Johnson
An urgent, informed, intimate condemnation of the Canadian state and its failure to deliver justice to Indigenous people by national bestselling author and former Crown prosecutor Harold R. Johnson.  Harold R. Johnson Born and raised in northern Saskatchewan, he was a member of the Canadian Navy and worked at mining and logging before graduating from Harvard Law School. He managed a private practice for several years and then became a Crown prosecutor. Johnson is a member of the Montreal Lake Cree Nation and lives on his family trapline with his wife, Joan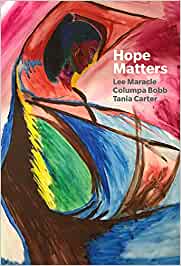 Hope Matters by Lee Maracle, Columpa Bobb, and Tania Carter
Find it as an ebook and print book
Hope Matters, written by multiple award-winner Lee Maracle, in collaboration with her daughters Columpa Bobb and Tania Carter, focuses on the journey of Indigenous people from colonial beginnings to reconciliation.
Maracle states that the book, "is also about the journey of myself and my two daughters." During their youth, Bobb and Carter wrote poetry with their mother, and eventually they all decided that one day they would write a book together. This book is the result of that dream.
Written collaboratively by all three women, the poems in Hope Matters blend their voices together into a shared song of hope and reconciliation.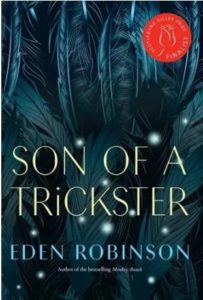 Son of a Trickster by Eden Robinson
Find it as an ebook and print book
With striking originality and precision, Eden Robinson blends humour with heartbreak in this compelling coming-of-age novel. Everyday teen existence meets indigenous beliefs, crazy family dynamics, and cannibalistic river otters . . . Everyone knows a guy like Jared: the burnout kid in high school who sells weed cookies and has a scary mom who's often wasted and wielding some kind of weapon. Jared does smoke and drink too much, and he does make the best cookies in town, and his mom is a mess, but he's also a kid who has an immense capacity for compassion and an impulse to watch over people more than twice his age. And he puzzles over why his maternal grandmother has never liked him, why she says he's the son of a trickster, that he isn't human. Mind you, ravens speak to him—even when he's not stoned. You think you know Jared, but you don't.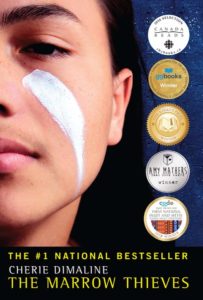 The Marrow Thieves by Cherie Dimaline
Find it as an ebook and print book
Just when you think you have nothing left to lose, they come for your dreams.
Humanity has nearly destroyed its world through global warming, but now an even greater evil lurks. The indigenous people of North America are being hunted and harvested for their bone marrow, which carries the key to recovering something the rest of the population has lost: the ability to dream. In this dark world, Frenchie and his companions struggle to survive as they make their way up north to the old lands. For now, survival means staying hidden - but what they don't know is that one of them holds the secret to defeating the marrow thieves.
The Marrow Thieves was a 2020 County Reads Selection. Listen to the recording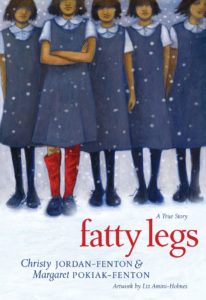 Fatty Legs by Christy Jordan-Fenton and Margaret Pokiak-Fenton
Find it as a print book and ebook
Eight-year-old Margaret Pokiak has set her sights on learning to read, even though it means leaving her village in the high Arctic. Faced with unceasing pressure, her father finally agrees to let her make the five-day journey to attend school, but he warns Margaret of the terrors of residential schools. At school Margaret soon encounters the Raven, a black-cloaked nun with a hooked nose and bony fingers that resemble claws. She immediately dislikes the strong-willed young Margaret. Intending to humiliate her, the heartless Raven gives gray stockings to all the girls — all except Margaret, who gets red ones. In an instant Margaret is the laughingstock of the entire school. In the face of such cruelty, Margaret refuses to be intimidated and bravely gets rid of the stockings. Although a sympathetic nun stands up for Margaret, in the end it is this brave young girl who gives the Raven a lesson in the power of human dignity.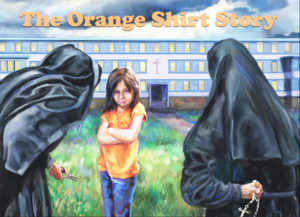 The Orange Shirt Story by Phyllis Webstad
When Phyllis Webstad turned six, she went to the residential school for the first time. On her first day at school, she wore a shiny orange shirt that her Granny had bought for her, but when she got to the school, it was taken away and never returned. This is the true story of Phyllis and her orange shirt. It is also the story of Orange Shirt Day, an important day of remembrance for all Canadians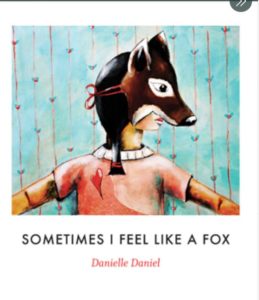 Sometimes I Feel Like a Fox by Danielle Daniel
Find as an ebook and printbook
In this introduction to the Anishinaabe tradition of totem animals, young children explain why they identify with different creatures such as a deer, beaver or moose. Delightful illustrations show the children wearing masks representing their chosen animal, while the few lines of text on each page work as a series of simple poems throughout the book.
In a brief author's note, Danielle Daniel explains the importance of totem animals in Anishinaabe culture and how they can also act as animal guides for young children seeking to understand themselves and others.