---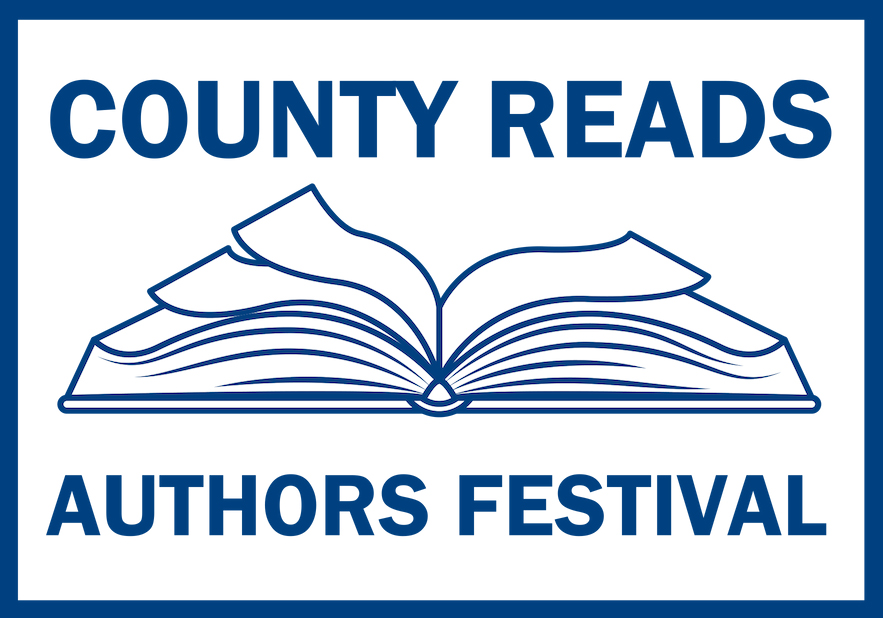 ---
County Reads Authors Festival 2019
Two of PEC's favourite literary events have joined forces to create the County Reads Authors Festival, taking place April 25-27. Kicking off the weekend is County Reads, hosted and moderated by County author Ken Murray, and over the next two days book-lovers will have an opportunity to hear from celebrated authors such as Wayne Grady, Debra Komar and Camilla Gibb. Scroll down for all the details!
---
---
County Reads is hosted and moderated by County author Ken Murray. Cheer on five County residents as they champion their chosen Canadian book of the year! After a spirited debate, spectators may vote for their favourite while enjoying some refreshments and taking in the DiscArted Art Show, which will be held in conjunction with the Festival. The winner of the debate will be announced to great fanfare at the evening's finale.
Read about the presenters!
Debra Komar's books have won numerous honours, including the Canadian Authors Award for History. A Fellow of the American Academy of Forensic Sciences, she investigated genocides for the United Nations, testifying as an expert witness at The Hague and across North America. Her latest book, The Court of Better Fiction, examines the 1921 court case in which the Canadian government, in its rush to establish dominion over the North, executed two innocent Inuit men. The precedent established Canada's legal relationship with the Inuit, who would spend the next seventy-seven years fighting to regain their autonomy and Indigenous rule of law. This book is a concise, scathing and, at the same time, sympathetic account of a travesty of justice committed against the Indigenous peoples living above the Arctic circle.
Schedule of Events
---
Camilla Gibb, reading and discussion
1:30 PM to 2:30 PM
Camilla Gibb is the author of four novels—Mouthing the Words, The Petty Details of So-and-so's Life, Sweetness in the Belly and The Beauty of Humanity Movement—and has been the recipient of the Trillium Book Award, the City of Toronto Book Award and the CBC Canadian Literary Award and shortlisted for the Scotiabank Giller Prize. Camilla has a Ph.D. from Oxford University and is an adjunct faculty member of the graduate creative writing programs at the University of Toronto and the University of Guelph-Humber. She is currently the June Callwood Professor in Social Justice at Victoria College, University of Toronto.
---
Intermission (refreshments available)
2:30 PM to 3:00 PM
---
Authors panel, moderated by Ken Murray, with readings and discussion
3:00 PM to 4:30 PM
Shaughnessy Bishop-Stall author of Hungover: The Morning After
Brian Flack author of When Madmen Lead the Blind
Cornelia Hoogland author of Trailer Park Elegy
Brian T.W. Way author of The Prince of Leroy
Samra Zafar author of A Good Wife
---
Author Bios
Hungover by Shaughnessy Bishop-Stall
In Hungover: The Morning After and One Man's Quest for a Cure, acclaimed journalist and witty raconteur Shaughnessy Bishop-Stall risks "life and liver" (Adam Rogers) to explore what happens to our bodies and minds when we over-imbibe and all the ways that we have tried to find relief. He delves into the infamous consequences of those rough mornings experienced by the greats of the past—from Noah to Churchill to pitcher David Wells—and recounts his own daring mission to find a cure so that you don't have to. Bishop-Stall has been nominated for the Hilary Weston Writers' Trust Prize for Nonfiction, the Drainie-Taylor Biography Prize, the Trillium Book Award, the Toronto Book Award and Amazon.ca First Novel Award. He was awarded the Knowlton Nash Fellowship for Journalism at Massey College. Bishop-Stall currently teaches writing at the University of Toronto and is a regular columnist for SHARP magazine.
---
---
When Madmen Lead the Blind by Brian L. Flack
What is forgotten and what is remembered and why are at issue in this novel about storytelling. As are the true identities of the characters and their intentions; and the fallout from the decisions they make. When Madmen Lead the Blind will challenge every reader's long-held assumptions about what precedes and what follows life as we know it. Brian L. Flack is the author of novels, poetry, and literary criticism. He has written for newspapers and periodicals and, for several years, he hosted a weekly radio programme ("Bookviews") on Q-107 in Toronto. In another life that he enjoyed for almost 40 years, he was a Professor of English Literature. He now lives quietly with the painter Susan Straiton in Prince Edward County.
---
---
Trailer Park Elegy by Cornelia Hoogland

Cornelia Hoogland's Woods Wolf Girl (Wolsak and Wynn, 2011) was a finalist for the ReLit Award for Poetry. Her story "Sea Level" was shortlisted for the 2012 CBC Creative Nonfiction Prize. Cornelia serves on national and international literary boards, and was the founder and artistic director of Poetry London and, most recently, of Poetry* Hornby Island, on the BC Gulf Island she calls home. In her seventh book, Trailer Park Elegy, in response to her brother's sudden death, Cornelia Hoogland explores the shift in gravity his dramatic absence creates. Set on the Salish Sea on Vancouver Island's east coast, Trailer Park Elegy reaches back two thousand years to the First Peoples, as well as to the brother whose delight was summers spent at Deep Bay.
---
---
The Prince of Leroy by Brian T.W. Way
Brian Way was born and raised on a small farm in the north end of Prince Edward County, Ameliasburgh, Ontario, a place where Loyalist ancestors came to settle in the1790s. He is a writer of fiction, non-fiction, memoir and poetry. His latest book, The Prince of Leroy, is a rousing, comic tale of action and adventure where kidnapping, murder, mayhem and philosophical enquiry ensue. Pulp Fiction meets Casablanca in The Prince of Leroy, a stunning book, an off-the-wall romp, a wild and unpredictable matinee for the postmodern silver screen.
---
---
A Good Wife: Escaping the Life I Never Chose by Samra Zafar
Samra Zafar faced years of abuse after arriving in Canada as a teenage bride in a hastily arranged marriage, but nothing could stop her from pursuing her dreams. In her memoir, A Good Wife, Zafar tells her harrowing and inspiring story, following her from a young girl with big dreams, through finding strength in the face of oppression and then finally battling through to empowerment.
---
---
Save $5 with a festival pass, valid for: (1) County Reads, (2) Debra Komar's talk and (3) the authors panel event.
---
---
A Free event sponsored by Le Cercle Français de Milford and the Prince Edward County Public Library
Translation Matters!
Friday, April 26, 3:00 PM.
Translation is an often under-appreciated aspect of literature and world affairs. New York Times columnist, Mark Polizzotti, writes that Nikita Khrushchev's statement "we will bury you" caused angry reactions around the world. The correct translation of the Russian message, "we will outlast you", might have been less threatening. Did the Japanese Prime Minister actually say his people felt "silent contempt" for Harry Truman's ultimatum? Or was it closer to "No comment. We need more time"? And in the world of literature, the misleading Arabic translation of the title "Satanic Verses" caused the death of one of the translators and riots around the world. (NYT, July 28, 2018)
Wayne Grady is one of Canada's most acclaimed French-English translators and winner of the John Glassco prize and the Governor General's award for Literary Translation. The Accidental Education of Jerome Lupien by Yves Beauchemin is his latest translation. Wayne has translated fifteen novels from French into English and has written many books of nonfiction. His novel Emancipation Day was long- listed for the Scotiabank-Giller Prize and won the Amazon First Novel Award. He teaches Creative Nonfiction at UBC.
Dorothy Speirs is an author, internationally recognized Emile Zola scholar, recipient of the Ordres des Palmes Académiques from the French government, tireless County volunteer and animatrice du Cercle Français de Milford.
The venue is St. Mary Magdalene Anglican Church, 335 Main St E, Picton, ON.
---
---
Open Book County Reads Contest
Our friends at Open Book are giving away FREE County Reads Authors Festival books and you could be the winner! Enter before the contest closes on April 29th for a chance to take home The Court of Better Fiction by Debra Komar, The Prince of Leroy by Brian T. W. Way, and Wods Wolf Girl by Cornelia Hoogland. 

To enter: Send an email with your name and full mailing address to contests@open-book.ca. To be considered, be sure to use the subject line "County Reads Contest".

Entries must be received by 11:59pm on Monday, April 29, 2019. One winner will be chosen at random and be contacted via email following the contest's closing. The winner will receive the prize pack listed above, courtesy of Open Book.
Listen to The County Reads 2018
Listen to The County Reads 2015
Listen to The County Reads 2016