---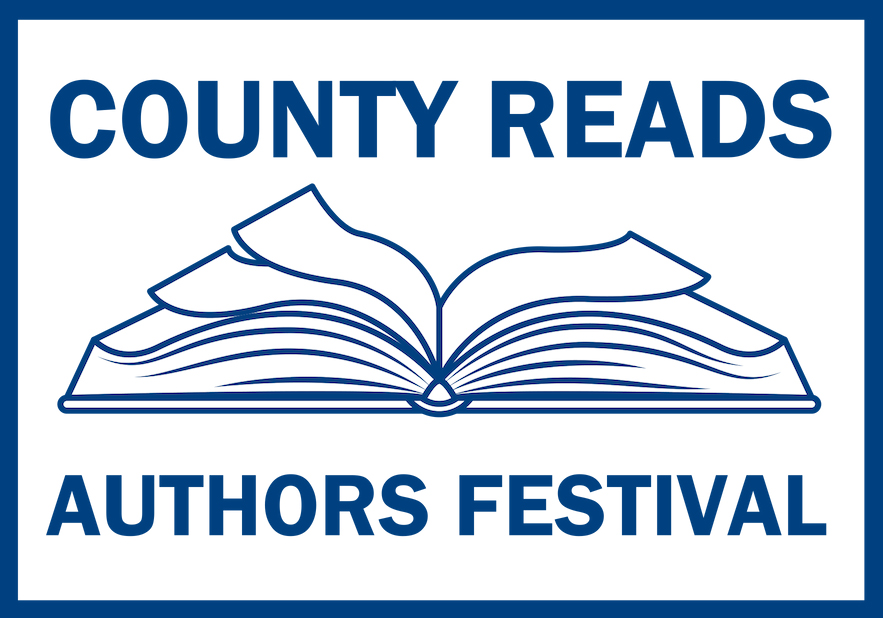 ---
County Reads Authors Festival 2020
The County Reads Authors Festival is pleased to announce that these authors have confirmed their participation in 2020: Samantha Bailey, Gwynne Dyer, Ian Hamilton, Joseph Kertes, Lee Maracle, Rachel Matlow, and Shani Mootoo.
PLEASE NOTE THAT THE AUTHORS FESTIVAL HAS BEEN POSTPONED. MORE INFORMATION WILL BE POSTED AS IT BECOMES AVAILABLE.
Woman on the Edge by Samantha Bailey.
Samantha M. Bailey is a Toronto-based novelist, journalist, and freelance editor. Her work has appeared in NOW Magazine, The Village Post, and Oxford University Press, among other publications. She was a writer-in-residence for Kobo Writing Life at BookExpo America 2013. She is the co-founder of BookBuzz, a promotional and interactive author-reader event held in New York City and Toronto. Woman on the Edge is her debut novel. A moment on the subway platform changes two women's lives forever — a debut thriller that will take your breath away. A total stranger on the subway platform whispers, "Take my baby." She places her child in your arms. She says your name. Then she jumps.
Climate Wars by Gwynne Dyer.
From one of the world's great geopolitical analysts, a terrifying glimpse of the none-too-distant future, when climate change will force the world's powers into a desperate struggle for advantage and even survival. Dwindling resources; massive population shifts; natural disasters; spreading epidemics; drought; rising sea levels; plummeting agricultural yields; crashing economies; political extremism; these are some of the expected consequences of runaway climate change in the decades ahead, and any of them could tip the world towards conflict. Prescient, unflinching, and based on exhaustive research and interviews, Climate Wars promises to be one of the most important books of the coming years. Gwynne Dyer, OC is a London-based independent Canadian journalist, syndicated columnist and military historian.
Foresight: The Lost Decades Of Uncle Chow Tung by Ian Hamilton (Ava Lee Series)
1980: A pivotal year in modern Chinese history as Premier Deng Xiaoping begins what he intends to be the transformation of China into an economic superpower. The most visible evidence of Deng's policy is the creation of Special Economic Zones, and one has been set up in Shenzhen, next door to Hong Kong and on Fanling's doorstep. Among Triad leaders, Uncle is the only one who recognizes that Deng's intentions could have profound repercussions on their organizations. To protect his gang and their interests, he acts to not only minimize the negative impact, but to turn events to his advantage.
Ian Hamilton is the bestselling author of the Ava Lee and Uncle Chow Tung series. His books have been shortlisted for numerous prizes, including the Arthur Ellis Award, the Barry Award, and the Lambda Literary Prize. BBC Culture named Hamilton one of the ten mystery/crime writers from the last thirty years who should be on your bookshelf. The Ava Lee series is currently being adapted for television.
Last Impressions by Joseph Kertes
Zoltan Beck is dying. His devoted but long-suffering sons, Ben and Frank, are trying to prepare themselves and their families for Zoltan's eventual departure...but they can't quite bring themselves to believe that the end is really at hand, and neither can Zoltan himself. The head of a family marked by war and tragedy for decades, he "can't stand to be in a room with a miserable person" and has done his best to keep the pain of his refugee past from his beloved children. But as he faces the end of his life, he discovers a heartbreaking secret from the War that will ultimately bring the family together--or irrevocably disrupt it. Set in both mid-20th century Hungary and contemporary Toronto, this is a deeply moving novel that revels in the energy of its extraordinary characters. It is the story of lost love and newfound connections, of a father and his sons desperately reaching out to bridge an ever-widening gap...even as their time together ebbs away.
Joseph Kertes was born in Hungary but escaped with his family to Canada after the revolution of 1956. His first novel, Winter Tulips, won the Stephen Leacock Award for Humour. His third novel, Gratitude, won a Canadian Jewish Book Award and the US National Jewish Book Award for Fiction, and both it and his fourth, The Afterlife of Stars, garnered extraordinary critical acclaim. Kertes founded Humber College's distinguished creative writing and comedy programs.
North Vancouver-born Lee Maracle is the author of numerous critically acclaimed literary works, including Bobbi Lee: Indian Rebel, Ravensong, Celia's Song, Memory Serves, I Am Woman, Talking to the Diaspora. Her collection of essays, My Conversations with Canadians, was a finalist for the First Nation Communities READ 2018-19 Award, and the 2018 Toronto Book Awards. She is also the co-editor of a number of anthologies, including the award-winning My Home As I Remember. A member of the Sto:Loh Nation, Maracle is a recipient of the Order of Canada, the Queen's Diamond Jubilee Medal, the JT Stewart Award, the Ontario Premier's Award for Excellence in the Arts for 2014, and the 2018 Harbourfront Festival Prize; she has also been nominated for the 2019 Neustadt Prize. Maracle is currently an instructor in the Aboriginal Studies Program at the University of Toronto, where she teaches Oral Tradition. She is also the Traditional Teacher for First Nation's House and an instructor with the Centre for Indigenous Theatre. Maracle has served as Distinguished Visiting Scholar at the University of Toronto, the University of Waterloo, and the University of Western Washington, and received an Honorary Doctor of Letters from St. Thomas University in 2009. Lee Maracle lives in Toronto.
Dead Mom Walking: A Memoir Of Miracle Cures And Other Disasters by Rachel Matlow
A traumedy about life and death (and every cosmic joke in between) –
With irreverence and honesty--and a little help from Elaine's journals and self-published dating guide, plus hours of conversations recorded in her dying days--Matlow brings her inimitable mother to life on the page. Dead Mom Walking is the hilarious and heartfelt story of what happens when two people who've always written their own script go head to head with each other, and with life's least forgiving plot device. 
Rachel Matlow was a long-time producer on the arts and culture program Q on CBC Radio, where she also worked on Spark and The Sunday Edition. Her audio documentary "Dead Mom Talking" won a 2016 Third Coast award and a 2017 Gabriel award. She has written for The Globe and Mail, National Post, and The Believer. She plays chess every weekend and is forever planning her next long-distance hike.
Polar Vortex by Shani Mootoo
Some secrets never die...
Priya and Alexandra have moved from the city to a picturesque countryside town. What Alex doesn't know is that in moving, Priya is running from her past-from a fraught relationship with an old friend, Prakash, who pursued her for many years, both online and off. Time has passed, however, and Priya, confident that her ties to Prakash have been successfully severed, decides it's once more safe to establish an online presence. In no time, Prakash discovers Priya online and contacts her. Impulsively, inexplicably, Priya invites him to visit her and Alex in the country, without ever having come clean with Alex about their relationship-or its tumultuous end. Prakash's sudden arrival at their home reveals cracks in Priya and Alex's relationship and brings into question Priya's true intentions.
Seductive and tension-filled, Polar Vortex is a story of secrets, deceptions, and revenge. It asks readers: Are we ever free from our pasts? Do we deserve to be?
Shani Mootoo was born in Ireland, grew up in Trinidad, and lives in Canada. She holds an MA in English from the University of Guelph, writes fiction and poetry, and is a visual artist whose work has been exhibited locally and internationally. Mootoo's critically acclaimed novels include Moving Forward Sideways Like a Crab, Valmiki?s Daughter, He Drown She in the Sea, and Cereus Blooms at Night. She is a recipient of the K.M. Hunter Artist Award, a Chalmers Arts Fellowship, and the James Duggins Outstanding Mid-Career Novelist Award from the Lambda Literary Awards. Her work has been long- and shortlisted for the Scotiabank Giller Prize, the International DUBLIN Literary Award, and the Booker Prize. She lives in Prince Edward County, Ontario.
Listen to The County Reads 2018
Listen to The County Reads 2015
Listen to The County Reads 2016