County Reads Authors Festival 2021
Thursday to Saturday, April 22-24
County Reads Festival Calendar
Thursday to Saturday, April 22-24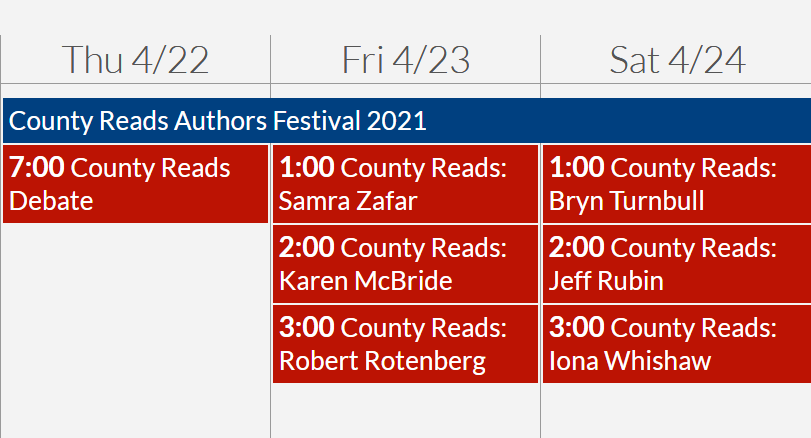 Five County residents defend their favourite Canadian books
---
After 20 years of residing in Belleville, Sandra Barnes recently made the move across the bridge and is now proud to call the County home.
You may recognize Sandra as the host of Quinte Cares, on Cogeco YourTV. Sandra highlights the people and organizations in our local community, like the County Food Hub's Mike Farrell and Chef Albert Ponzo, who have made a positive impact on our community during this time of COVID.
Sandra is currently working for the Alzheimer Society of Hastings-Prince Edward promoting Dementia Friendly Communities through public education and training. She is also responsible for Fund Development, raising donations for the free programs and supports the agency provides to those in our community living with dementia and their care partners.
A life-long learner and leader, Sandra has held senior positions with the Government of Ontario, working for the Office of the Premier and Cabinet Office, Ministry of Education and Training, and Ministry of Children, Community and Social Services. She was most recently the Manager of Eastern Ontario for the Heart and Stroke Foundation. Sandra's an avid reader, and as she was growing up, her mother would often remark that her nose was always in a book!
Honoured to be a participant of County Reads, Sandra is looking forward to the opportunity to defend the book, The Pull of the Stars by Emma Donoghue.
John Hirsch had a long career in the Federal government with Canada Customs. Later he was a private sector Customs and trade consultant and wound up his professional career in warehouse and transportation logistics in the Toronto area. Upon retiring to the County in 2014 with his wife and cats, John got involved in community service, primarily in the areas of environment and conservation – especially in respect of the PEC South Shore.
2018 – Founding Director and President of the South Shore Joint Initiative
2016 – 2020 -Director of CCSAGE – County Coalition for Safe and Appropriate Green Energy
2015 – 2017 -Appellant in the successful WPD White Pines ERT appeal
2015 – Present -Board member Prince Edward Point Bird Observatory
2015 – Appointed to the Board of Quinte Conservation Authority by the Municipality of Prince Edward County
Persuaded by many people in the environmental movement, John ran in the municipal election in 2018 and now represents Ward 9 South Marysburgh. In this capacity, he sits on the Board of Quinte Conservation, the Audit committee, Prince Edward Heritage Advisory committee and now the newly formed Environmental Advisory Committee.
On a cold blustery January day, seventeen years ago, Anne Preston and her husband moved into their little farm house on Ridge Road in Prince Edward County. After a few years of commuting from Toronto and her job as a literacy coordinator with the Toronto District School Board, Anne retired and moved to the County full time.
Anne became chairperson of the Written Word Committee of the Prince Edward County Arts Council. In that capacity, she organized fundraisers to create a writer in residence program at the Al Purdy A-Frame in Ameliasburgh.
In 2007, she founded and created this delightful literary event – County Reads. (Like Canada Reads, but better!) She organized and ran the event for ten years until, in 2017, the PEC Library took over the responsibility for the event. In 2009, she founded County Kids Read – a project which addresses the link between literacy and poverty by distributing free books to children in need. She continues in this role as chair.
Kevin Scanlon was a journalist in Canada for 42 years before he retired in 2010. He has written for all of the Toronto daily newspapers at one time or another. In 1986, he joined Macleans magazine as an editor and closed his career with the Toronto Star. He also wrote seven major articles for Equinox magazine, including three cover stories. After his retirement, he fulfilled a lifelong dream when he briefly worked at the International Herald Tribune in Paris. He won an Alberta playwright award for his play Bloody 'Ell! and was nominated for a Gemini Award for writing in TV drama for an episode of Adderly.
Since his retirement, he has written numerous books for his grandson and has had several shows of his photographs and wooden artworks in galleries in Prince Edward County. He sometimes lectures on writing at grade schools where he also reads stories from The Storybox for pupils up to Grade 3.
He and his wife, Trish Worron, live in Wellington where he continues to work on a novel that he hopes to finish before someone writes his obituary.
After YHZ and YYZ, with layovers in JFK and YUL, Alexandra Seay is thrilled to have finally landed permanently in PEC. As the General Manager of the Regent Theatre all Alexandra's creative energies are consumed by keeping it moving forward through these challenging times. But she looks forward to a not-too-distant future when she has free time to continue her work as a director/writer and creative developer specializing in literary adaptations. In the meantime, she continues to be grateful for the opportunity to call the County home and for the invitation to read books!
Thursday, April 22, at 7:00 PM
REGISTER NOW
---
County Reads Speaker Events
Friday and Saturday, April 23-24
KAREN McBRIDE is an Algonquin Anishinaabe writer from the Timiskaming First Nation in the territory that is now Quebec. She holds a bachelor of arts in music and English, a bachelor of education from the University of Ottawa and a Master of Arts in creative writing from the University of Toronto. Karen works as an elementary school teacher on her home reserve. Crow Winter is her first novel.  Her participation in the County Reads Authors Festival is made possible by the financial assistance of the Canada Council through the Writers' Union of Canada.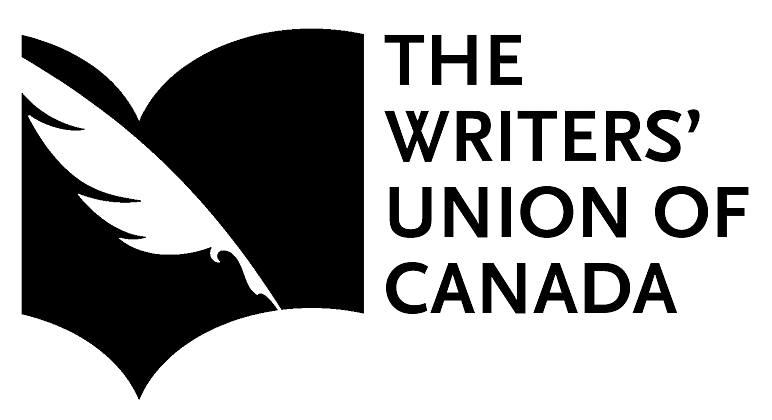 ---
---
ROBERT ROTENBERG is the author of several bestselling novels, including Old City Hall, The Guilty Plea, Stray Bullets, Stranglehold, and Heart of the City. His latest book, Downfall, explores the growing homelessness crisis in our cities, and was an instant national bestseller. He is a criminal lawyer in Toronto with his firm Rotenberg, Shidlowski, Jesin. He is also a television screenwriter and a writing teacher. Visit him at robertrotenberg.com or follow him on Twitter @RobertRotenberg.
---
JEFF RUBIN is a Canadian economist and bestselling author. A world-leading expert on trade and energy, and former chief economist and chief strategist at CIBC World Markets, he recently served as a senior fellow at the Centre for International Governance founded by Jim Balsillie. His first book, Why Your World Is About to Get a Whole Lot Smaller, was an international bestseller. The book was the Number 1 bestselling non-fiction book in Canada and won the National Business Book Award, as well as being longlisted for the Financial Times and Goldman Sachs Business Book of the Year Award. He is also the author of the bestsellers, The End of Growth and The Carbon Bubble. His latest book THE EXPENDABLES: How the Middle Class Got Screwed By Globalization was a national bestseller.
---
When she was eleven years old, BRYN TURNBULL accidentally put her foot through a single-pane window while leafing through a well-worn copy of Sandman (Volume 2). The incident, which resulted in a trip to the hospital, five stitches, and a unique application of superglue, taught her two things: one, that reading is not, and should not be attempted as, a full-contact sport; and two, that writers can create worlds within a book so absorbing, so completely and utterly all-encompassing, that they can drive readers to such distraction as to forget the outside world entirely.
​     Today, Bryn is a writer of historical fiction. Equipped with a Master of Letters in Creative Writing from the University of St. Andrews and a Bachelor's degree in English Literature from McGill University, Bryn, who resides in Toronto, writes books intended to drive readers to similar levels of distraction – to transport them into different eras and different worlds, but hopefully not into the hospital.
​     With a penchant for fountain pens that leak ink onto her fingers, antique furniture, and traveling, Bryn is, admittedly, an old soul with limited patience for modern conveniences - but if you want to get in touch with her, email - that most ancient of online technologies - is the best way to do it.
      Bryn is represented by Kevan Lyon of the Marsal Lyon Literary Agency. Her debut novel, The Woman Before Wallis, was released by Mira on July 21, 2020, and became a Canadian bestseller.
---
IONA WHISHAW was born in British Columbia. After living her early years in the Kootenays, she spent her formative years living and learning in Mexico, Nicaragua, and the US. She travelled extensively for pleasure and education before settling in the Vancouver area. Throughout her roles as youth worker, social worker, teacher, and award-winning high school principal, her love of writing remained consistent, and compelled her to obtain her master's in creative writing from the University of British Columbia. Iona has published short fiction, poetry, poetry translation, and one children's book, Henry and the Cow Problem. A Killer in King's Cove was her first adult novel. Her heroine, Lane Winslow, was inspired by Iona's mother who, like her father before her, was a wartime spy. You can find Iona online at ionawhishaw.com.
---
SAMRA ZAFAR is an award-winning, internationally renowned speaker, bestselling author, and educator for equity, mental health, and human rights. She has been recognized among the Top 100 Most Powerful Women in Canada, Top 25 Inspirational Women in Canada, and Top 25 Canadian Immigrants. Her book, A Good Wife: Escaping The Life I Never Chose, based on her journey of escaping an abusive child marriage to pursue her education and shed light on gender-based oppression, is a national bestseller, was one of CBC's Best Books of 2019, and is being adapted to a premium TV series. She serves as a Governor at the University of Toronto, a Celebrated Ambassador for Plan International, and a board member for Women's College Hospital Foundation. Her work has impacted millions and has been extensively featured in global media. Samra's speaking portfolio includes three successful TED Talks, and many leading corporations, universities, and nonprofits around the world. To find out more, please visit samrazafar.com.
---
---