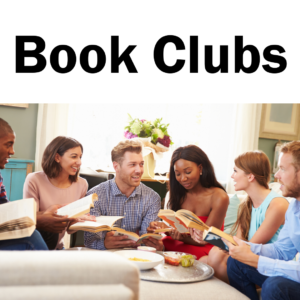 If you have ever joined a book club, you will know that there are a number of benefits, from staying connected to friends to being inspired to read outside your comfort zone and more. If you're a member of a group interested in meeting online but you don't know where to start or you need a little help along the way, the library's tech help team is happy to help. Complete the "VIRTUAL MEETING ROOM" form and we'll help get you started.
One frequent question that we get from book clubs is, "How can the library help my group all read the same book at the same time?" If your group is willing to read e-books, Hoopla Digital is the easiest solution. All of the books that are available on Hoopla are available simultaneously, which means that all members of your club can access them at the same time. If you need help using any of the library's e-book and downloadable audiobook services, contact techhelp@peclibrary.org.
The County of Prince Edward Public Library also has a number of book club sets available for your group.  You can view them on the catalogue be clicking HERE. They are also available in PDF format HERE.