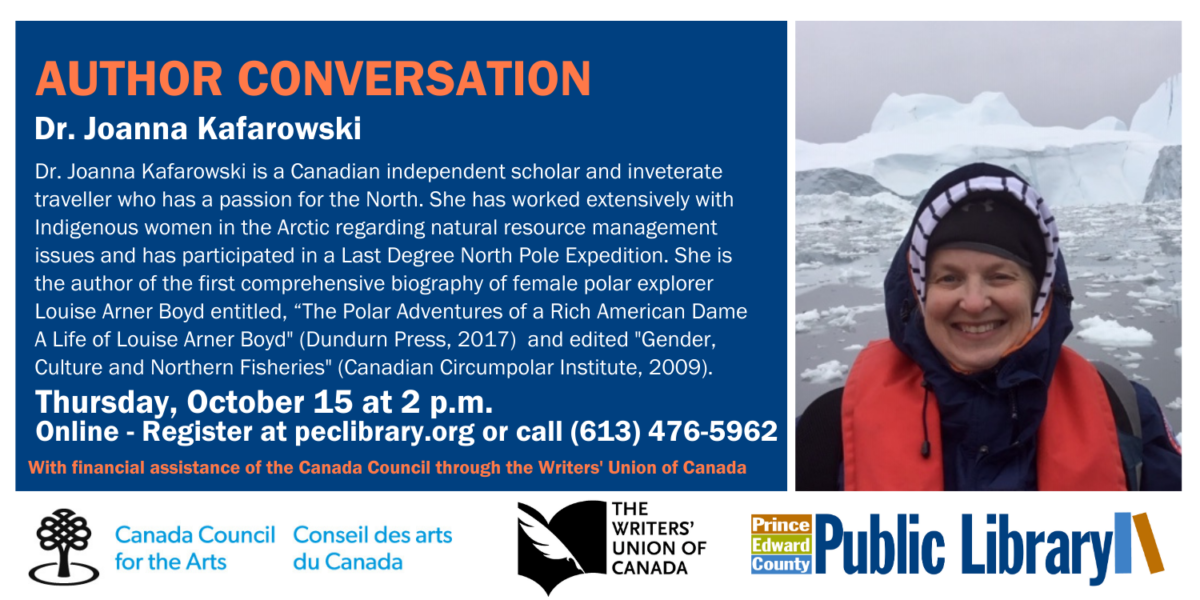 The County of Prince Edward Public Library gratefully acknowledges the financial assistance of the Canada Council through The Writers' Union of Canada.
Dr. Joanna Kafarowski is a Canadian independent scholar and inveterate traveller who has a passion for the North. She has worked extensively with Indigenous women in the Arctic regarding natural resource management issues and has participated in a Last Degree North Pole Expedition. She is the author of the first comprehensive biography of female polar explorer Louise Arner Boyd entitled, "The Polar Adventures of a Rich American Dame A Life of Louise Arner Boyd (Dundurn Press, 2017) and edited Gender, Culture and Northern Fisheries (Canadian Circumpolar Institute, 2009). Joanna has a bachelor's degree in English literature, a master's degree in Geography, a doctorate in Natural Resources and Environmental Studies and a Professional Specialization Certificate in Heritage Conservation Planning. She is a Fellow of the Royal Geographical Society, a Member of the Society of Woman Geographers, an Affiliate Member of the American Geographical Society, a Member of the International Arctic Social Sciences Association and a Member of the Canadian Association of Geographers.
To REGISTER FOR THE EVENT CLICK HERE.
She can be followed at:
https://www.instagram.com/joannakafarowski/
https://www.facebook.com/joannakafarowskiauthor/
https://www.goodreads.com/author/show/8071273.Joanna_Kafarowski
https://www.pinterest.com/kafarowski/